Solar PV Panels Installers
With almost 10 years of experience in the Solar Panels market, you can rest assured you are selecting a top-quality installer that you can trust.
We design and supply solar energy systems to meet your needs.
Solar panels are the perfect way for you to cut your rising energy bills. Why not get a quote today and see how much money you can save?
Free solar estimate 
Get in touch to find out what the cost will be for a solar panel energy system  to be installed at your home or commercial business. You can also have your solar PV panels serviced or repaired by our skilled team.
By selecting us, you can be assured you are picking one of Scotland's top solar panel installers.
Contact us and we will get back to you with a competitive, no-obligation quote and get you on the road to low-cost, environmentally friendly energy production.
Off Grid Solar PV
If you own a home, caravan, farm, or motor home that is off the electrical grid we offer a full design and installation service for Off Grid Solar PV systems.
Off-Grid Solar Systems are ideal for Holiday homes, Garages, Camp Sites, Caravan Homes, Cabins, and even Offices. They are a great alternative in Rural and Remote areas.
You can avoid power outages, reduce your electricity costs, gain energy independence, and reduce your carbon footprint with an off-grid solar panel system.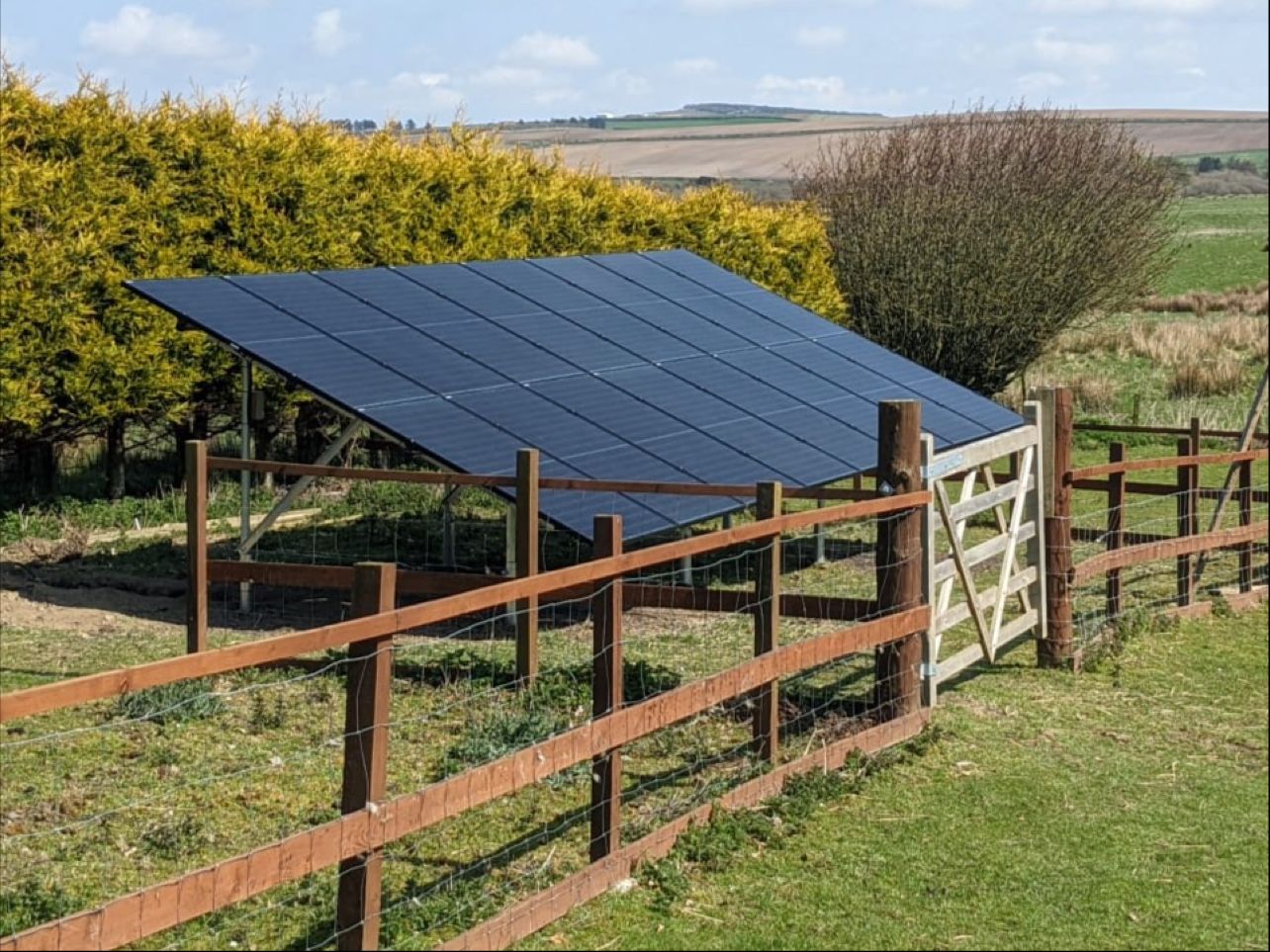 Can I store the electricity generated from a solar panel for use later?
Yes, if you use solar battery storage. This gives you the ability to store electricity to use in your home when you really need it. For example, you could store electricity generated via your solar panels during the day to use at night.
Is my home in a suitable location for solar panels?
All the modules that make up a solar panel are connected, so any shading on a single module will affect the performance of the whole array. A solar system can tolerate some shading early or late in the day without much reduction of overall output but it should not be shaded between 10am and 4pm. Nearby trees, chimneys, TV aerials, and vent pipes are all common causes of shading and should be accounted for before any installation.
Your roof should ideally face due south at a pitched angle of around 30° from the horizontal to give the best overall annual performance. Installations at any pitch and facing anywhere to the south of due east and due west are feasible, although output and income will be reduced. Installation is not recommended on roofs facing north.
Do I need planning permission for solar panels?
In Scotland, you don't need planning permission for most home solar electricity systems, as long as they're below a certain size. However, you should check with your local planning officer, especially if your home is a listed building, or in a conservation area or World Heritage Site.
Solar panels are permitted unless:
Panels are installed on any part of the external walls of the building if the building contains a flat.
Panels when installed on a flat roof are situated within 1 metre from the edge of the roof or protrude more than 1 metre above the plane of the roof
Panels when installed project higher than the highest point of the roof (excluding the chimney)
The building is within a conservation area or World Heritage Site and the solar PV or solar thermal equipment is installed on a roof which forms the front of the building and is visible form the road
Can I get a grant to install solar panels?
The Scottish government has a number of grants and incentives for renewable energy. They include a renewables loan of up to £17,500 and an energy storage loan of up to £6000.
For more information, see the Scottish Government Renewable and low carbon energy page.
How do Solar PV Systems work?
Solar Photovoltaic systems (solar panels) use energy from the sun to create electricity used to run household appliances and lighting. When sunlight shines on a Photovoltaic (PV) panel, an electric field is created across the cell resulting in the flow of electricity.
What are the advantages of solar electricity?
Reduced electric bill
Insurance against rising energy costs
Low maintenance
Silent – no noise pollution
Cheaper power source
Return on investment
Environmentally friendly
Energy independence
Solar Panel Installers in Aberdeen and Aberdeenshire
Rest assured that you are making the right choice when selecting i-protech for your solar panel installation.
Our fully qualified team of designers and installers delivers quality solar panels at a competitive cost. All our installations are covered by warranties.
The solar panel installation includes:
Installing roof fittings
Fitting of solar panel
DC (Direct current) to the inverter from the solar panel array
AC (Alternating current) to meter into household fuse box
Installation of generation and export meter