Positive relationships based on strong communication and the quality of our workmanship have allowed us to build upon an already enviable client retention rate.
From private households to forward-thinking companies such as Nicol of Skene and Miller Plant Hire, we are continually looking at innovative technology to offer the best solutions to our customers and exceed their expectations.
Don't take our word for it.
Read what our clients have to say
After four years of great i-Protech installed CCTV coverage, I decided to add some more.
Given the great job they did in 2019…. i-Protech was the obvious and my only choice of company to fit the extra cameras.
Another super job by a lovely, courteous and knowledgeable team. Mike (Earl Grey, no milk, one sugar… said he's not sweet enough…we disagree), Jonny (brought his own healthy bag of crisps etc. perfect food for an IT wizard), Mike (white coffee, no sugar… he really is sweet enough).
They work as a team, and finish the job as good professionals should…. which they are!
i-Protech is the benchmark for quality and value for money.
I would like to take this opportunity to thank Stuart and his team for the fantastic job for installing my ground mount Solar Array and home storage battery system.
I had my own ideas what I wanted and i-Protech team helped to guide and make my ideas reality. I had a lot a lot of questions during installation and the team answered everything with their sound knowledge, so gave me confidence that the job was getting professionally done.
After the installation and commissioning was done, the system surpassed my expectations of how much solar power I was producing and surplus power going to my battery.
I would highly recommend I-protech to anyone who was wanting to install a renewable energy system.
i-Protech installed 9 EV charger points for our fleet use at Thainstone Centre. The team were very helpful, and being a local company, were happy to pop out to site as and when required which was extremely beneficial. We look forward to working with i-Protech again in the future.
Kind regards,
Katie
"When the time to perform has arrived, the time to prepare has passed"
Excellent On-Site Fire Training today for myself and my team, delivered by I-Protech – I can't recommend enough the importance of getting this done just so your staff are experienced at using fire extinguishers.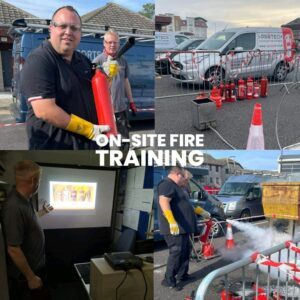 I am following up in regards to the recent Fire Warden Training that i-Protech provided for Books and Beans.
On behalf of Books and Beans / Celera Support Services we would like to thank you for the professional (but relaxed) manner in which you delivered the course. The staff involved greatly benefitted from the presentation and the "Hands On" training of the various fire extinguishers. 
We have already noticed how they are looking at situations differently in regards to hazard identification / hunt and spotting any potential fire hazard, which we hope they pass onto their other colleagues at Books and Beans.
I would have no hesitation in recommending i-Protech to any other interested parties in regards to training and services that you have already provided to Books and Beans / Celera Support Services, fantastic service.
Thanks again